Writing
Rachel G. Strong was born and raised in Chicago, Illinois. She was the youngest of two children. She has always been a writer at heart. However, she didn't exactly start her writing career right away. She would go through many milestones and turning points in her life before she would become a writer.
Rachel already had a family and was working toward earning her MBA degree from Saint Leo University in Florida when she thought about writing the first installment of her Katya of Damaszkuszi series.
However, upon completion of her MBA degree, Rachel's sister became critically ill. Rachel set aside her plans to join the corporate world to care for her sister. The silver lining during this challenging period in Rachel's life was that she was able to find time to write. 
After many years, she finally indulged in her desire to engage in creative writing. She realized there was a big difference between writing papers required for her MBA degree and writing stories that she herself enjoyed. In a way, writing also proved therapeutic for Rachel. 
Once Rachel completed her first novel, she made numerous revisions before she decided that it was fit for printing. Rachel didn't get discouraged when her manuscript was rejected by various agents and publishers. Thus, she decided to strike out on her own as an indie author. 
The the first installment of Rachel's Katya of Damaszkuszi series was released through Create Space in 2014. Since then, it seems that Rachel has been making up for lost time. She has remarked, "Although I always loved writing, only after starting my Katya series did I realize that I truly loved my new vocation as novelist. I feel as if I was guided to this end."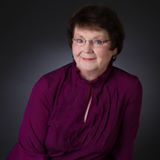 At Home with Rachel

Rachel and her husband live in South Carolina with their menagerie of animals in in a Colonial designed home at the top of a rising slope.
When not writing, she and her husband tend to a garden filled with vegetables and fruit trees in their backyard. There is a strawberry patch, vegetable garden, apple trees, peach trees, cherry trees and a plum tree surrounded by David Austin English Roses that dart the landscape.
Work

​
Rachel starts work after feeding her birds, all nine of them at about nine in the morning. Her work day is frequently interrupted by barking dogs that want attention or wanting to go out. Her day finishes when dinner needs to be prepared for serving at about five in the afternoon.
After dinner, she puts her little flock of birds to sleep and plays with her blue and gold macaw, Cuddles. The balance of the day is spent with her husband, or under a writing deadline, writing in her office shared with a salt water fish tank and its inhabitants.